Grilled Chicken, Peach, and Arugula Salad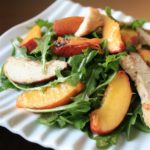 5 tbsp olive oil (divided)
1 tbsp balsamic vinegar
1 tbsp chopped shallot
1 tsp Dijon mustard
1/2 tsp salt (or more to taste)
4 peaches (halved and pitted)
4 skinless, boneless chicken breast halves
8 cups baby arugula
Preheat an outdoor grill for medium-high heat and lightly oil the grate.

Whisk 1/4 cup olive oil, balsamic vinegar, shallot, Dijon mustard, and 1/2 teaspoon salt together in a bowl until dressing is well mixed.

Brush 1 teaspoon oil onto cut-side of peaches.

Place peaches, cut-side down, onto grill and cook until heated through, about 4 minutes. Transfer peaches to a plate.

Brush remaining oil onto both sides of chicken breasts and season with salt.

Cook chicken on grill until no longer pink in the center, about 4 minutes per side. An instant-read thermometer inserted into the center should read at least 165 degrees F (74 degrees C). Slice chicken into thin pieces and cut peaches into 1/2-inch thick pieces.

Toss arugula and dressing together in a bowl. Divide dressed arugula among plates; top with peaches and chicken.
Recipe from https://www.allrecipes.com/recipe/242415/grilled-chicken-peach-and-arugula-salad/